Make decisions confidently with meticulously curated datasets on at-risk species and the habitats they live in.
What makes NatureServe so unique is our standardized methodology for collecting, managing, and sharing data that all our member programs follow, ensuring the products you receive are decision-quality. Our maps represent the breadth and volume of our data, and guide where conservation planning is needed.
See our featured maps below or browse our entire collection of maps and other conservation solutions.
Featured Conservation Maps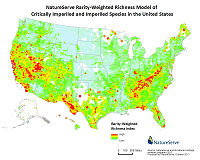 NatureServe's foundational dataset includes more than 900,000 location records (element occurrences) from our Network of biological inventories operating in all 50 states and in most of Canada. Over four decades, this network has collected and managed detailed local information on plants and animals of conservation concern and has become a leading source for information about North America's endangered species. NatureServe offers one-stop access to this information from throughout the region.
Both conservation professionals and environmental enthusiasts find value in our county/watershed maps and datasets. Knowing where at-risk species reside is an important starting point for understanding both national and regional conservation needs and priorities. It's also fun to understand what lives in your own backyard.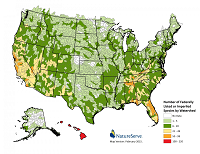 The county and watershed maps are based on NatureServe's widely recognized data. For over 40 years, the NatureServe Network has regularly assessed and documented detailed scientific data for species and ecosystems in all 50 states, using our core methodologies and standards.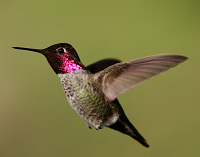 Plant pollinators play enormous ecological and economic roles in natural and cultivated landscapes. Recent studies suggest that some pollinator species are suffering sharp population declines, and this alarming pattern highlights the need to increase our understanding of pollinator natural history, population status, and distribution.
The U.S. Geological Survey asked NatureServe to develop detailed range maps of five pollinator species. We selected species based on the following criteria: must be a true pollinator (some species visit flowers but often do not pollinate), has a wide distribution, pollinates a broad range of plants, is not domesticated, is representative geographically and taxonomically, and is well known.