Streamline your environmental planning and review process with our suite of software solutions.
NatureServe is the leading source for decision-quality data in North America, and our products make our data accessible to a wide range of conservation professionals, regulatory agencies, and citizen scientists. From interactive maps to online databases, our tools offer customizable searching, mapping, and reporting to support on-the-ground decisions.
See our featured conservation tools below or view our entire collection of conservation solutions.
Featured Conservation Solutions

NatureServe Explorer® provides authoritative conservation information on more than 70,000 plants, animals, and habitats of the United States and Canada.
This free searchable public database represents 40 years of field work, ecological inventory, and scientific database development by NatureServe, its network members, and hundreds of botanists, zoologists, ecologists, and information specialists.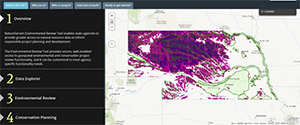 NatureServe's Environmental Review Tool is a web-mapping application framework developed in collaboration with our Network partners to provide interactive access to natural resources data. The tool can be highly customized to match the needs of the hosting agency and is currently successfully deployed for the states of Virginia, Arizona, North Carolina, Louisiana, Missouri, Pennsylvania, Nebraska, New Mexico and Kentucky with further deployments in development.
The Environmental Review Tool represents a highly customizable off-the-shelf web application framework. By leveraging and extending this robust platform, NatureServe can implement and deploy a custom tool for an agency for a fraction of the cost of building a new, made-to-order system. Using a software-as-a-service delivery model, ERT clients are ensured ongoing system improvements, support, and secure hosting for an affordable annual fee.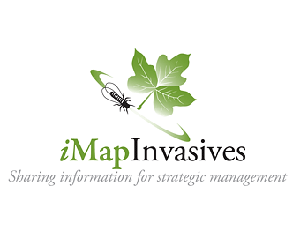 Invasive species pose a significant and growing threat to native biodiversity. They compete with native species for resources and often have no native predators to keep their numbers in check. Any large scale effort to protect biodiversity and the environment must be able to deal with the effects of invasive species. Early detection is often the key to successful eradication.
iMapInvasives is a cloud-based application for tracking and managing invasive species. Developed by NatureServe and partners in the iMapInvasives Network, it gives resource managers the power to know about the latest observations of an invasive species, in real time, so they can respond to new threats to the ecosystems they manage.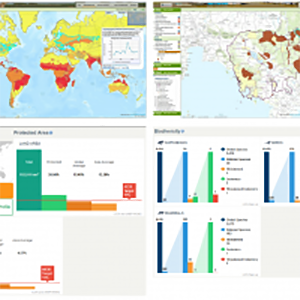 NatureServe's Biodiversity Indicators Dashboard is an interactive tool that visualizes the health and trends of biodiversity, and tracks conservation performance at regional, national, basin, and site scales. The dashboard monitors the status of key biodiversity indicators for any part of the world, signaling both where and what conservation action is needed.
Dashboard can help track progress toward global conservation goals, support national monitoring and reporting, and inform outcome-based policy making for sustaining biodiversity.