Conservation Conversations with Sean O'Brien
Geared towards conservation professionals and casual listeners alike, this educational and entertaining podcast features discussions between NatureServe President & CEO Sean O'Brien and leading experts on how emerging technologies can benefit conservation, regional and global trends in biodiversity, and the future for life on Earth.
Newsletters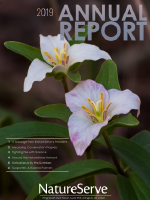 2019 was an exciting year for NatureServe and the Network. From developing a series of innovative and dynamic maps, to forging partnerships with the some of the world's leading technology companies, and innovating software solutions, the NatureServe team has been hard at work to increase our capacity to provide the reliable biodiversity information our partners, governments, and concerned citizens depend on.